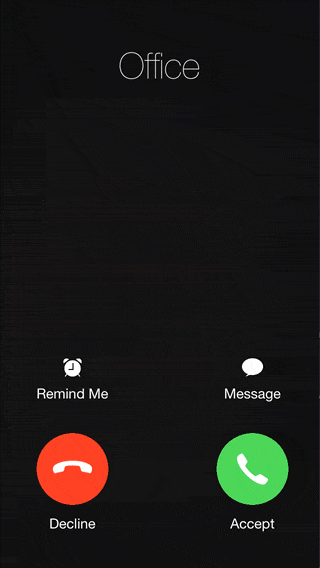 With little more than the press of a button or two, you can set Interrupt Me to call your phone with a simulated call, exactly when you need it. Customize the ring tone, background image, caller identity, avatar and more. Excuse yourself from any meeting or awkward situation, "Sorry, I have to take this."
But Interrupt Me is more than just an alarm clock. If your simulated call is to be effective, it has to be as close to the real thing as possible. Let's face it… heads are going to turn when your phone rings and, in a group of people, chances are someone will catch sight of your screen. That's why Interrupt Me mimics an actual call very closely. When the ringing begins, your screen will display the standard OS incoming call screen. Accepting the call will not only display the call in-progress screen, it will even animate between the incoming and answered states.
And that's not all. If you feel like you suddenly have a good reason to stay around a little longer, you can decline the call or even snooze the interruption and get a call back a few minutes later!