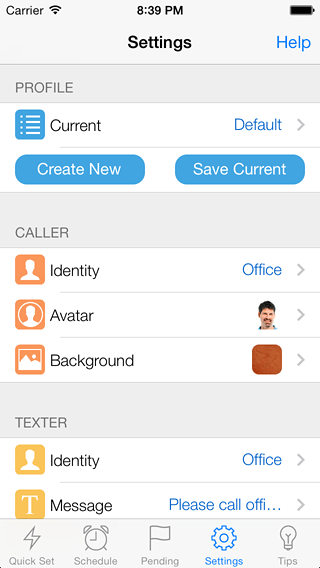 A realistic call screen is an important part of the success of Interrupt Me. Part of that comes from your ability to customize the look of the caller information at the top of the screen. Typically displayed in the top inch of the screen, this can contain the name or number of the caller, and a small avatar image associated with that caller.
To change the avatar, start by pressing the Avatar bar in the Caller section of the Settings screen to display the Avatar screen.
From here you can pick a preset avatar (man or woman), remove the avatar (if you want to just display a name or number), or create a custom avatar.
Contacts: If you want to simulate a call from someone in your contact list, press the Contacts button. If the contact you pick already has an image associated with it, it will automatically be selected as the avatar.
Photos: To use a photo that is already on your phone, press the Photos button. After selecting the desired image, your avatar will be populated accordingly.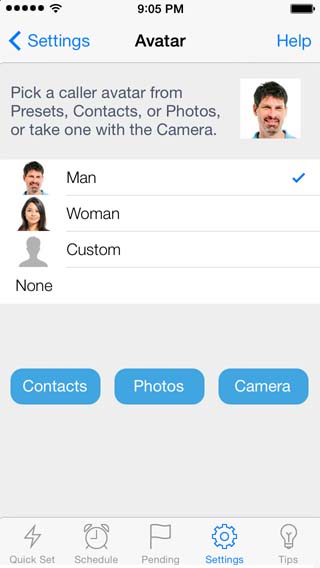 Camera: To create a custom avatar with your camera, press the Camera button. After you're satisfied with the picture you take, the image will be used for the avatar.
Note: To access your contacts, photos, or camera, you must grant your permission. Depending on your version of iOS, the app may display the default screen (Quick Set) of the app after you're finished. Revisit Settings to confirm that your change was successful.